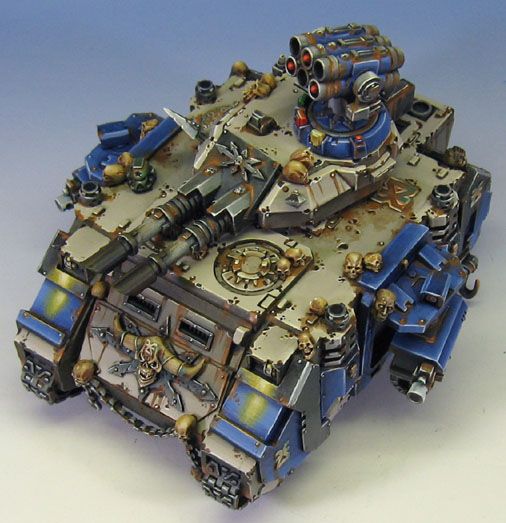 All right, this is my first attempt at creating a page just for a tutorial. We'll see how this goes!
As most of you have seen the "Tainted" World Eaters army, I won't bore you with those details. I did find these step by step images which I took as I painted one of the predators. It takes you from the assembly stage:
To the finished result above. The specific colors are not so important, especially since they don't exist anymore under the new GW paint set recently released. I will be pretty general about that description. The focus is about the approach to laying down the colors, and how to work the glazes, weathering, etc.
Here is step one, where most colors are "bulked out". I don't care about neat edges or anything like that. I just want to get all the surfaces covered. No primer showing, as that will make it more difficult to tell how light or dark the next layers need to be.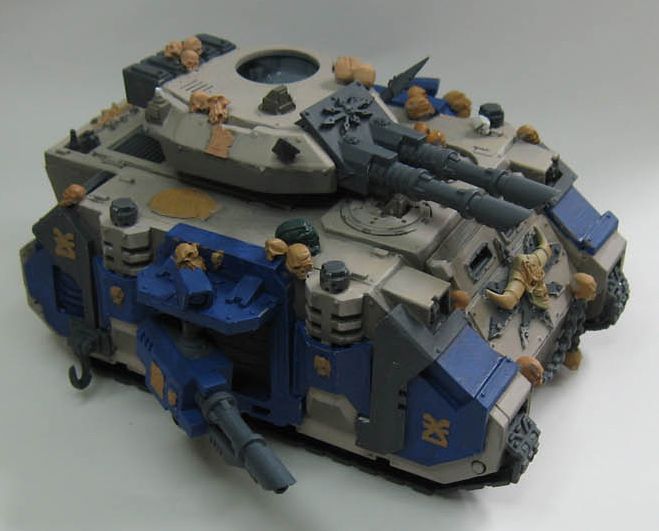 You can see that I am already lightening my colors from a middle tone. Still not trying to be neat at this point. It is all about establishing how I want my shading to work.
At this stage I am working even lighter. On vertical surfaces, I am trying to create that "dark to light" shading that denotes the reflected light from the ground. This is commonly used when doing NMM painting.
I think this is where the "shaded basecoate" technique you keep hearing me talk about starts to diverge from what everyone else does :-) I am continuing to work lighter, but now I am also lightening the horizontal and angled surfaces. It is important to note that I have tried to keep the amount of colors used to a minimum. For example, I have only used 2 different blues, and 3 different 'whites'.
This is about the peak of the lightening. I have even gone so far as to mix some white in both the blue and 'white' mixes. At this point, it is time to begin shading things darker.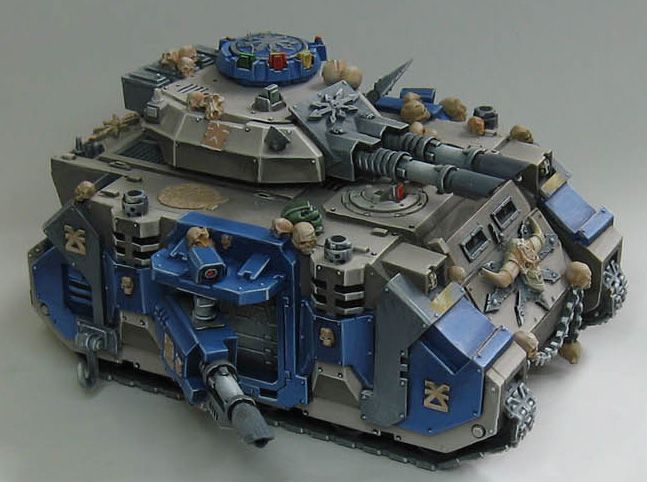 Now we begin to shade. I use very controlled glazes. This is a crucial term. These glazes are done with very small brushes, many layers upon many layers. In fact, the initial layers of glaze (typically a GW wash) is watered down a bit.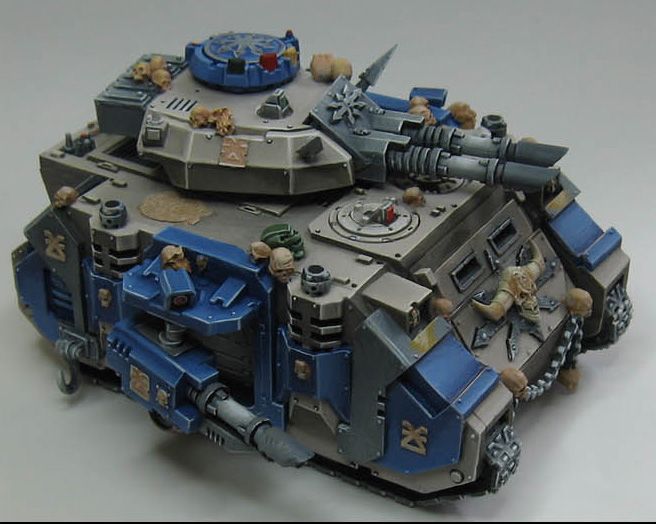 The shading continues. As I work even darker, I will even begin to add regular paint to my glazes. When you add GW washes to regular paints, it is like adding glaze medium, thus making them stay wet for longer peroids of time. That can even give you a chance to do some wet into wet painting. I have also begun to do my weathering.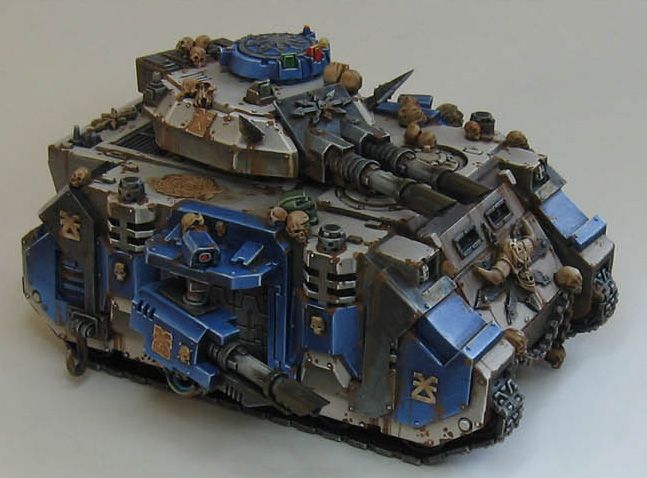 In the previous image, I had been doing my initial weathering. I was trying to establish where the paint chipping would be, and the rust/staining. I had not discovered weathering powders at this time. I was using a GW foundation paint, calthan brown, as the start point. I only mention the foundation paints as they can become very god for rust and stains when thinned with water. The water breaks down the color a bit, making it streaky. What better for streaks of rust that streaky paint? :-) This paint chips were done with a dark brown, trying to follow a logical pattern along the outlines of the vehicle. However, it is also good to have a few to break up large open spaces.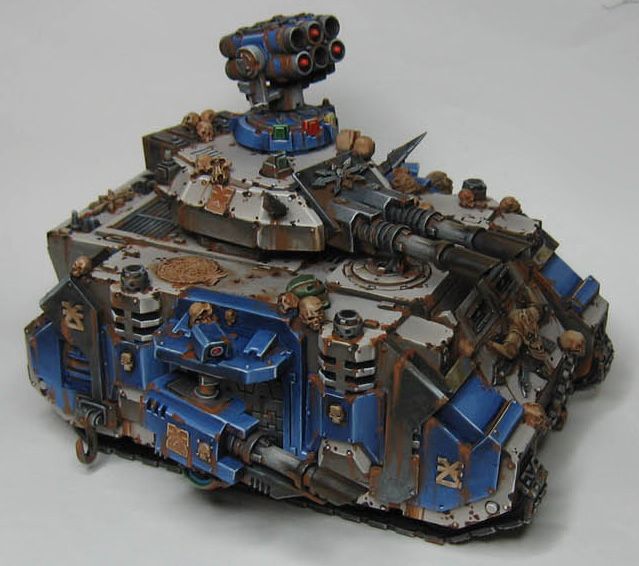 As you reach the final stages, you can work "backwards" for a bit, adding in some highlights where they are needed. The paint chips get highlighted (always on the underside of the paint chip), and a shadow on the top rim. I have carried the streaks of rust even further, and finished the lighting effects of the headlights and the little diodes on the hatch.
Hopefully, this provides some insights and useful tips for everyone!